Master the foundation of creative jewellery drawing. No experience required. Learn from home at your own pace.
Even the most valuable jewellery pieces start with designs. This course aims to give students the necessary foundations to develop aesthetic appreciation, high standards and skills in creative drawing and essential jewellery knowledge.
This course is entirely online and consists of 5 progressive online components. Graduates are also eligible to pursue more advanced design courses and Diploma Programmes taught in JDMIS'classrooms.
What you'll learn
Buy The Entire Course
Start With Unit 1
Video preview
12 minutes on Youtube
Course instructor
Tanja is an award winning jewellery designer with more than 3 decades of experience educating the jewellery industry across 4 continents. Dean and founder of JDMIS, Tanja works with aspiring artisans as well as top jewellery brand team members to help them achieve brilliance in their careers.

Read More
Course materials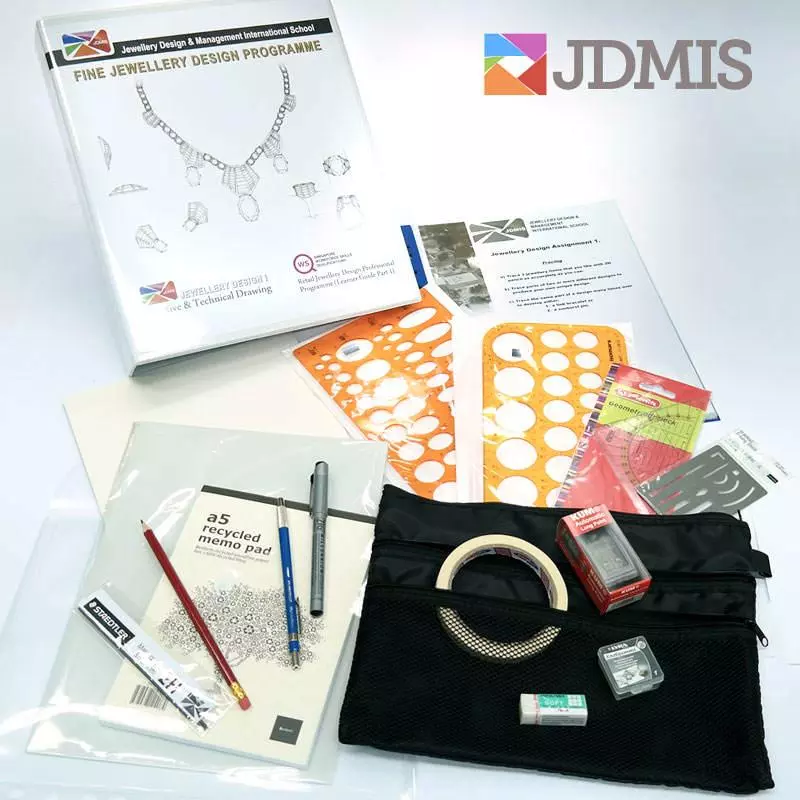 Students of this online course can choose to buy the materials themselves or click here to buy the whole toolkit set from us.
Estimated shipping time: 2-3 working days within Singapore.
International: 2-15 working days
What's inside?
HB Pencil
Polymer Eraser

Mechanical Pencil

2h Leads

Multi pencil Sharpener

Kneedable Eraser
Black highlighting pen – 0.05mm

Multi Template, Ruler, Protractor, Alignment guides
Round Template – 1/2m increments
Mounting board
Tracing Paper (50gm x 25 sheets)
White Paper
Masking Tape
Students' reviews
After the class I can draw a jewellery which I wanted. And I know where I can find the inspiration

- Xin Yue (China)

<!

I hope to begin as a freelance designer.

- Xing Rui (China)

<!

It gave me the confidence that designing a piece of jewellery doesn't just require creativity.

- Hoon Tan (Singapore)

<!

Focused content and lots of practicals. Content is well explained.

- Soon Ping M. (Singapore)

<!

Smaller class and the lecturer is very patient and teaches step-by-step on the techniques and skills.

- Li Ling (Singapore)

<!
Buy The Entire Course
Start With Unit 1