Have you ever found yourself in search of that elusive piece of jewellery that perfectly encapsulates your unique style and personality? Or wished for a creative outlet that allows your aesthetic sense to shine? We have a solution - become a jewellery creator yourself!
Silversmithing is an art that is accessible to beginners, and with the innovative Metal Clay technology, it is now even more attainable from the comfort of your own home. What's more, this could be more than just a hobby; it could be your pathway to a lucrative side business!
Experience the JDMIS' New Metals Technonologies Certificate in the innovative blended course model. Immerse yourself in online micro-learning videos at your own pace and polish your skills with real-life sessions at our JDMIS campus.
This course enjoys 50-70% SkillsFuture Funding for a limited time!
Learn More
Instructor's profile
Tanja is an award winning jewellery designer & gemmologist with more than 4 decades of experience educating the jewellery industry across 4 continents. Dean and founder of JDMIS, Tanja works with aspiring artisans as well as top jewellery brand team members to help them achieve brilliance in their careers.

Read More

A former corporate trainer and speaker, Wahab is also a passionate jewellery artist specializing in wire sculpting and fabrication using powdered metals. Wahab is an accredited jewellery professional with GIA and brings over 15 years of experience in these specialities to the JDMIS Precious Metal Arts and Fashion Jewellery Arts programmes. Many of his most unique design styles are self taught and he shares these with his Thread and Wire and Metal Clay students on a part-time basis.

Read More
Just launched: New Metals Technologies Certificate in Blended Learning Format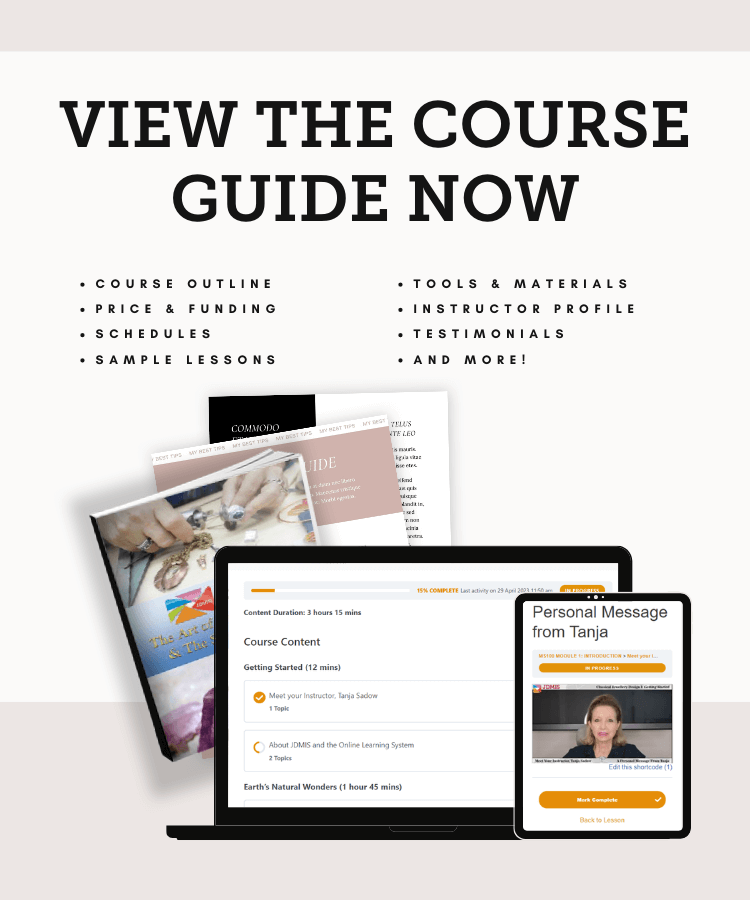 Who can say it better than our past graduates?
All is good! Absolutely enjoyed the classes!

- Jocelyn L. (Singapore)

So much fun using clay to create jewellery. Creativity and innovation infused to create a master piece of our own.

- Vani M. (Singapore)

I just made a ring for personal use and it was impressive as I did not imagine I could do it out of metal clay.

- Patrina L. (Singapore)

You get to do a lot of things with your hands and take home your own jewellery.

- Doris R. (Germany)

With New metals, I have the freedom to make what I want!

- Verner J. (Singapore)

I join to make pretty things for myself and my friends. It keeps me happy.

- Michelle C. (Singapore)

You can put together your creativity to come up with something amazing all by hand!

- Takami K. (Japan)

Class was interesting, pieces made during class was as good as it was purchased. Materials for class were included in the fees which makes it good value.

- Agnes S. (Singapore)
Course Gallery
View Course Syllabus, Price, Funding and More!