Have you ever dreamt of crafting your own exquisite jewellery designs and turning your passion into a profitable venture? The path to realizing your dreams begins here! Enroll in our flagship Jewellery Making Programme and immerse yourself in the world of Metalsmithing Knowledge. This intensive course empowers jewellery enthusiasts and aspiring entrepreneurs with the foundational skills needed to create captivating pieces.
Over the course of 2-4 weeks, you will learn the art of working with silver, copper, bronze, and metal alloys under the guidance of expert instructors and curriculum. With hands-on experience in applying textures, rolling metal sheets, and drawing custom thickness wires, you'll be equipped to execute perfect professional finishing techniques. Discover the artistry within you and embark on a creative and profitable journey in the captivating realm of jewellery making.
This course enjoys 50-70% SkillsFuture Funding for Singaporeans and PRs for a limited time!
Learn More
Instructor's profile
Tanja is an award winning jewellery designer & gemmologist with more than 4 decades of experience educating the jewellery industry across 4 continents. Dean and founder of JDMIS, Tanja works with aspiring artisans as well as top jewellery brand team members to help them achieve brilliance in their careers.

Read More

From a microbiologist, Michelle ventured into jewellery crafting as a hobby but eventually wanted to turn it into a full-time career. Michelle is passionate and highly experienced in Precious Metal Arts and Fashion Jewellery Making.

Read More
This year's remaining schedules are in high demand!
Submit the form below to learn more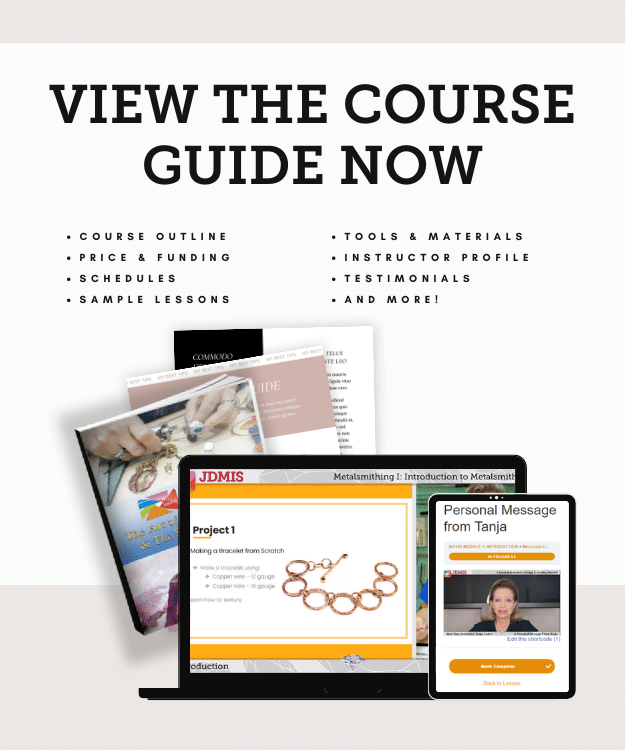 Who can say it better than our past graduates?
The course is great, really enjoyed it, thank you :)

- Pui Yan C. (Singapore)

Love this course; it's informative and great! Will definitely come back for refresher lessons. It's worth every penny, and they should join as they will learn a lot and it's very applicable! Metalsmithing is my favorite course because it's very hands-on and fun with great instructors! It will be useful to make fine jewellery, which is my goal!

- Shihua L. (Singapore)

My favourite is still Metalsmithing at this point. I enjoy spending hours crafting beautiful pieces of arts from raw silver sheets and wires.

- Sylvia K. (Singapore)

Highly recommended course to get your hands-on experience in jewellery related education. I will use my skills for hobby projects.

- Calvin T. (Singapore)

There is a wealth of information in these courses...Tanja is a very very knowledgeable instructor with lots of patience and enthusiasm in the subject. Very infectious. The blended learning is an extremely helpful and a wonderful mode of learning. I am thoroughly enjoying this course and look forward to participating in the next level. Thank you Tanja!

- Angeline K. (Singapore)

Excellent grounding in safety, tool usage, techniques. Well worth the time.

- Eli S. (Singapore)

I think the thrill of learning metalsmithing techniques for the first time was my best experience. (JDMIS is) the best place to take a course. You will not be disappointed.

- Arathy S. (Singapore)

It's easy to make your own jewellery instead of buying. Metalsmithing for the win!

- Li Yen L. (Singapore)

I like that I can get "my hands dirty" with hands-on experience.I really enjoy metalsmithing and working with silver! I am very inspired to continue metalsmithing and learning more at JDMIS because I had a fantastic instructor.

- Ow J.W. (Singapore)

I like both New Metal and Metalsmithing courses. I like them both: very practical and hands-on and able to make jewellery pieces on my own.

- Jenny L. (Singapore)

Friendly and encouraging atmosphere...This course will help me communicate better with the goldsmiths who will be working on my jewellery designs.

- Swapna K. (Singapore)

Hands on, messy, very satisfying

- Louise (UK)

I especially like metalsmithing. I just love to fire and shape things... (Going to) create nice pieces and make some monies!

- Angie
Course Gallery
Request To View Course Syllabus, Price, Funding and More!