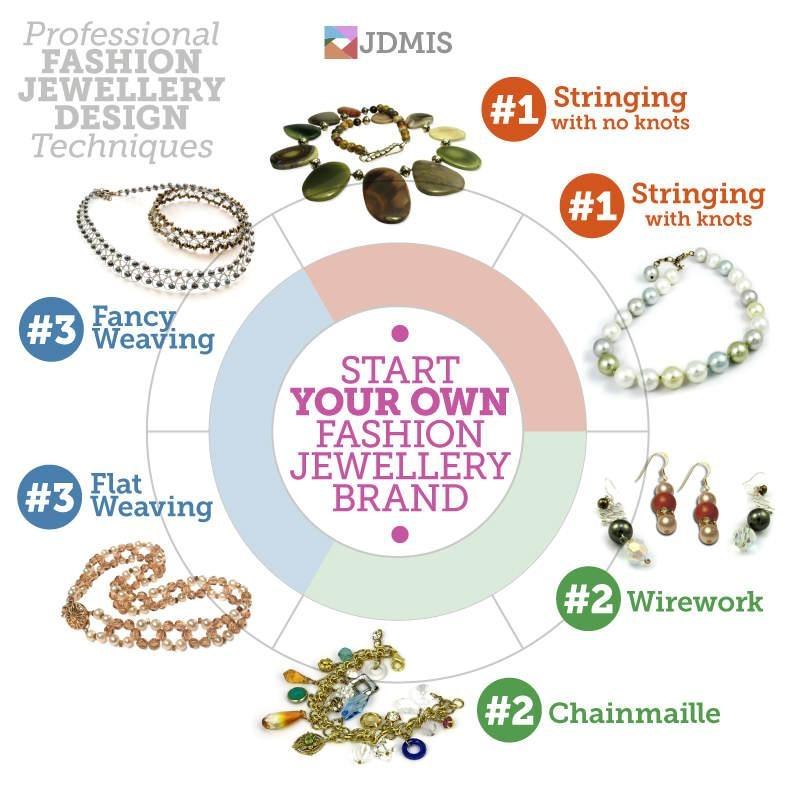 Techniques at a glance. Click the image to enlarge.
Are you are an artisan entrepreneur looking to improve the quality and efficiency of your work? a jewellery company employee needing to implement commercial techniques for in-store repairs? a hobbyist looking for the best training available? Studying Fashion Jewellery with the professionals means less trial and error, a better understanding of the quality of components available, and superior products for your clients, customers or friends and relatives.
As a pillar of JDMIS' professional jewellery courses, the techniques, materials and information in this programme has been refined over decades and thousands of students! It represents the most formal and complete training available in the Fashion Jewellery Arts anywhere.
Course outline
Professional Stringing Techniques
Tools and materials

Price is inclusive of hundreds of natural materials, genuine Swarovski Crystals and top-quality findings, as well as a full-set of tools and design boards.

Learning path

Assemble

This course offers a practical hands-on experience. At the end of the workshop, participants will have assembled one or more pieces of jewellery.

Pre-requirements: None

Next Step (Fashion Jewellery Arts Specialisation):
FJ200 - Fashion Jewellery 2: Intricate and Versatile Fashion Jewellery Styles to Impress.

Next Step (Jeweller's Knowledge):
GT100 - Jewellery Trade Practices 1: Gem and Jewellery Trade Secrets. and/or
FT100 - Jewellery Fashion Trends 1: Epic and Contemporary Trends.

Participants attending and completing this programme as a stand-alone certification can choose to enroll for the Fashion Jewellery Arts Diploma.

Duration

30 hours

1 week (Full-time),
5 weeks (Part-time), or
10 weeks (Weeknights)

JDMIS runs week-day, weekend and weeknight courses for this popular course. JDMIS also has flexible make-up schedules and graduates can return without cost for refresher courses (subject to availability).

Course fee

SGD 2,000

Course fee is inclusive of GST as well as all tools and materials provided during the course.