Looking to turn your passion for fashion and jewellery into a profitable and enjoyable skill or even business in matter of months? The fastest way to creating high quality, fashionable jewellery is by knowing what materials and pre-fabricated components to select and how to assemble them professionally.
As a pillar of JDMIS' professional jewellery courses, the techniques, materials and information in this programme has been refined over decades and thousands of students! It represents the most formal and complete training available in the Fashion Jewellery Arts anywhere.
Preview video
View Sample Lessons
Course outline
Professional Stringing Techniques
Stringing on soft wires provides durability and speed to designers working with crystalline materials. Learn about different qualities of soft wire, when to use each, and how to design and create your first pieces of jewellery with a professional looking, lasting finish.
Stringing Pearls and Gems Incorporating Knots
This technique is reserved for higher quality pearls and gemstones. Learn established professional stringing techniques, when to use alternative stringing threads and the very unique finishing methods which apply to this excellent system. No burning or glue is involved, just a long lasting stronger finish for enjoyment of lasting jewellery.
Wirework Foundations
This emphasizes accuracy, skill and speed which is an important tool in every fashion designer's arsenal. Learn to create a variety of designs and understand about wire hardness and tensile strength to choose the quality wires which will last longer and limit customers returning for repairs. Build the technique and confidence to ensure future works are made to high standards and learn unique styles and patterns suitable only for wirework designs.
Chain Maille Jewellery
The history of chain-maille and its numerous modern weaves and patterns are fun and add a creative dimension to the program culminating with a multi-layered fashionable chain-maille bracelet and a Bysantine bracelet. Incorporating maille components into stringing and wirework creations can add uniqueness and flair to more traditional design styles.
Creative Combination of Techniques
After mastering the techniques, it's time to apply the skills you have learned creatively to produce unique jewellery pieces that defines your own style. Plan your design strategy beforehand and check with your instructor if the creation can be completed within the time period, then challenge yourself to produce a top-quality jewellery project within the time allotted. This final project gives the school an opportunity to evaluate your work based on your ability to utilise the materials available and the combination of the techniques. More importantly, it gives you the confidence to produce infinite combinations of ready-to sell jewellery you will be proud to own, gift and even set you sail on your entrepreneurial voyage!
Duration & Training Modes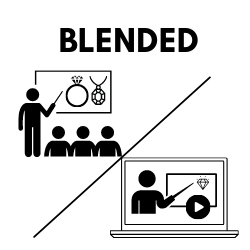 Duration: 3-5 weeks
All important theory and practical demonstrationst will now be delivered through asynchronous (self-paced) online learning. This means that students go through most of the learning at their own pace and convenience via a comprehensive series of online videos and attend live interaction sessions (physical or online) afterwards to receive maximum support and guidance under expert instructors to reinforce the learning of key skills and concepts. For more information on different training modes, click here .
JDMIS also has flexible make-up schedules and graduates can return for free for refresher courses (subjected to availability).
Course Instructors
Sujata is an experienced teacher and fashion jewellery artist specializing in thread and wire jewellery fabrication techniques. Moving to Singapore, she used the opportunity to enrolled into JDMIS and after graduation, she soon became a recognized jewellery artist with her own brand name, Mila

Read More

Sharon Tan was previously a seasoned marketer and accomplished figure skating coach. Her unique blend of skills, creative passion, and teaching acumen enables her to effectively impart complex jewellery techniques to her students and inspire them to greater heights and success even beyond the classroom.

Read More
Watch our short preview video of Fashion Jewellery
Student reviews
Course is detailed, instructor is good and generous in sharing skills and experience. Admin staff is great.

- Alexis K. (Singapore)

Must sign up!! Very fun and informative... I never thought I would be interested in chain maille but after this course I fell in love with it! Will be exploring more chain maille techniques to play around with :)

- Harumi K. (Singapore)

I would love to start using these skills to make fashion jewellery for myself and to gift to relatives and friends for practice. Most important of all, to give back to society by way of donating proceeds from the sale of my creations to a good cause. Maybe even teach in the CCs if I become expert enough.

- Bhupinder K. (Singapore)

Fantastic! 1)There is support even after end of course. 2) Sharon is knowledgeable and willing to impart her knowledge. 3) Tanja's videos are easy to follow and the school allows us to re-watch again. Thanks for supporting the new kids on the block :).

- Mui Lee A. (Singapore)

Very well structured course and the videos are very helpful. We can always go back to watch the videos should we forget the techniques. It is extremely useful.

- Shirley K.(Singapore)

I love everything!!! Thank you!!

- Ekaterina T. (Russia)

I love my trainer and she did explained well and make me understand and help me a lots.

- Tiny K. (Singapore)

You get to learn the right techniques and make your very own creation. You have the best instructor to get going with your creative juices.

- Michelle E. (Singapore)

The best course center I've attended so far! I've already shared this course with my husband and he graduated last week.

- Pauline Q. (Singapore)

Good learning environment and the instructors are skill full and friendly , attend to every individual's doubts and questions with great patience.

- Swapna K. (Singapore)

Very good learning environment, very good instructor with detailed guidance and strict demands to achieve professional finishing of jewellery pieces. All materials provided and shared with us with guidance on where to buy materials and how to choose materials.

- Catherine C. (Singapore)

The teaching method at JDMIS truly enables students to acquire practical skills and the confidence to make professional quality jewellery. I encourage anyone with a passion for jewellery making and wishes to acquire the skills to come here to learn.

- Geraldine W.

Very well organised. Basically, all techniques are my favourite. We can mix different techniques into a single unique piece.

- Karen K. (Singapore)

The best hands on workshop that teaches essential skills without holding back their knowledge or fearing you will be better than them.

- Sylvia K. (Singapore)

I would recommend this fashion jewellery design course to my friends because the instructor is very experienced and knowledgeable. 😊

- Shireen Ng. (Singapore)

The school teaches proper techniques professionally. I will use the skills to make beautiful necklace to sell or gifts for friends. 😊

- Hamilton H. (Singapore)

Fashion jewellery 100 course is well planned, very interesting and informative. I will be using the skills to create more designs & jewellery!

- Seow Wei L. (Singapore)

Lovely, professional, friendly - Tanja, the trainer and the JDMIS team

- Joycelyn W. (Singapore)

Enjoyed the course thoroughly. A big thank you to Sujata for making the learning so enjoyable and also sharing generousy about her own experience as a professional jeweller.

- Agnes K. (Singapore)
Course Gallery
Frequently asked questions
What is the difference between Blended Learning and e-Learning Modes of Study

+

The Blended Learning is a new option where less physical attendance is required to complete the course. The majority of your learning will take place through structured asynchronous (self-study) learning on our online platform. Once you have completed the required online lessons, you will attend scheduled classroom sessions at JDMIS' campus (in Singapore) where core techniques and knowledge are reinforced under the guidance of our expert instructors.

Similar to the Blended Learning, participants of the e-Learning Course will go through self-directed and self-paced learning through our structured online course. After completing the required self-study, participants will attend scheduled live online sessions with an expert instructor and a small group of other online learners.

In general, the total duration of e-Learning courses is slightly shorter than their blended-learning counterparts due to the absence of physical class attendance. This makes the e-learning courses more affordable, and also a suitable choice for individuals who do not have the option of joining us at the JDMIS Singapore campus.

For more detailed explanation on the Blended Learning and e-Learning, please visit our Training Mode explainer page.

How will the schedules work?

+

Most of your jewellery training will be delivered through HD-quality recordings that you can view at your own pace and convenience. Live session with the instructor (physical for Blended, and online for eLearning) will be scheduled in between or near the end of the course to reinforce your mastery of key concepts.

What if I have questions during self-study?

+

The learners from each course will receive access to an exclusive WhatsApp Group where you can get feedback from instructors and engage in discussions with your fellow students. You can also raise your questions during the live lessons with the instructors.

How much time do I need to study a week?

+

As most of the course is self-paced, you conduct your study at your own pace that suits your learning style. but the general recommended duration is 1-2 days a week.

Are the tools & materials included? If not, how much do I need to pay?

+

The cost of tools and materials is already included in the course fee. All students will receive the same tool kit that they will need to complete their course efficiently. For Singaporean and PRs, the amount will be invoiced and paid separately because tools & materials fees are not covered by SSG funding. Overseas students doing the online only/e-Learning option are eligible to opt out of purchasing the toolkit by letting our registrar know at the time of your registration.

How will my assignment be graded and what do I need to pass?

+

You are responsible for completing the online lessons before attending the live sessions with JDMIS instructors. Each course has several milestone assignments which you need to complete and submit by specified deadlines in order for your instructors to review and provide feedback.

In order for your instructors to review your assignments and provide feedback, you need to take photos/scans of your completed work (design or jewellery piece) and submit them onto the JDMIS online assessment portal.

You need to obtain an average mark of 60% or higher to pass the course and receive your Certificate of Completion.