For 5000 years, metal craftsmen have toiled untold hours to produce their jewellery creations... Today, new technology allows your unlimited creative expression and immortalising your talent in stunning high-quality metal jewellery. In this beginner-friendly Silver-jewellery making certificate, you will learn professional techniques to work with the new Silver Metal Clay. It is a highly versatile and safe material for producing unique jewellery design in pure silver (999 silver, more pure than sterling or 925 silver!)
In a small class of 6-8 students, you will receive hands-on instruction and 7 practical projects to master the craft from JDMIS' Expert instructor in just 2-4 weeks! Making stunning and creative jewellery is never easier.
Course outline
Learn to use 'metal clay' to create a variety of silver jewellery such as rings, pendants, earrings and brooches. Learn and perfect a variety of modelling methods using wood clay, various gemstone setting techniques and, after firing, traditional and non-traditional jewellery finishing techniques to create spectacular silver jewellery.
Introduction to Powder Metallurgy
Understand the varieties of metal clay available; learn about firing alternatives and special techniques for modelling with each. With pendant(s) as your first project, you will learn about working with the clay types, keeping your projects malleable, creating shapes and joining pieces to form solid metal parts. Your first projects are fired on a gas-stove or butane torch, ensuring you are comfortable when working from home.
Create Simple Rings with Prong Set Gems
Learn how to use gemstone heads to securely set gemstones using prongs in any design. Learn the precise measurements needed to produce custom-fit rings and explore additional finishing options. Your second project involves more accuracy, ensuring proper fit, and provides more opportunities to practice finishing techniques.
Clay Types & Forms with Unique Uses & Setting Styles
This class teaches the many uses of the syringe-type metal clay to produce larger but light weight creations. The syringe allows greater accuracy in directing the design into more intricate patterns. An interesting and useful bezel-style stone setting technique is incorporated into your third project to add colour and interest.
Create Light Weight Hollow Jewellery
By forming basic shapes in a material called 'Cork' clay or wood clay which burns at a lower temperature than the metal clay we can achieve wonderful, large-but-light designer jewellery. This addictive technique allows you to produce stunning one-of-kind centrepieces and your fifth project will leave others wondering just how it could have been manufactured.
Achieve a Patina Finish
Enhance your designs with an antiqued look or create modern, geometric and high-contrast pieces. Go beyond basic techniques, learning how to work with large and small designs, how to extend the life of your sulphurising compound, and ideal temperatures, timings and tips for creating even patinas with different tones.
Course Instructor
Tanja is an award winning jewellery designer & gemmologist with more than 4 decades of experience educating the jewellery industry across 4 continents. Dean and founder of JDMIS, Tanja works with aspiring artisans as well as top jewellery brand team members to help them achieve brilliance in their careers.

Read More

A former corporate trainer and speaker, Wahab is also a passionate jewellery artist specializing in wire sculpting and fabrication using powdered metals. Wahab is an accredited jewellery professional with GIA and brings over 15 years of experience in these specialities to the JDMIS Precious Metal Arts and Fashion Jewellery Arts programmes. Many of his most unique design styles are self taught and he shares these with his Thread and Wire and Metal Clay students on a part-time basis.

Read More
Student reviews
So much fun using clay to create jewellery. Creativity and innovation infused to create a master piece of our own.

- Vani M. (Singapore)

You can put together your creativity to come up with something amazing all by hand!

- Takami K. (Japan)

I just made a ring for personal use and it was impressive as I did not imagine I could do it out of metal clay.

- Patrina L. (Singapore)

You get to do a lot of things with your hands and take home your own jewellery.

- Doris R. (Germany)

I join to make pretty things for myself and my friends. It keeps me happy.

- Michelle C. (Singapore)

Class was interesting, pieces made during class was as good as it was purchased. Materials for class were included in the fees which makes it good value.

- Agnes S. (Singapore)
Duration & Training Modes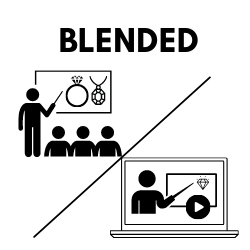 Duration: 3-5 weeks
All important theory and practical demonstrationst will now be delivered through asynchronous (self-paced) online learning. This means that students go through most of the learning at their own pace and convenience via a comprehensive series of online videos and attend live interaction sessions (physical or online) afterwards to receive maximum support and guidance under expert instructors to reinforce the learning of key skills and concepts. For more information on different training modes, click here .
JDMIS also has flexible make-up schedules and graduates can return for free for refresher courses (subjected to availability).
Class size

With only 6-10 students in a class, you will learn fast with plenty of opportunities to interact with the instructor and classmates.

If you are creative and enjoy working with your hands, New Metal Technologies is much more accessible than you would imagine. You do not need jewellery or art experience to get started, and your classmates come from all walks of life - ensuring an enriching and enduring experience.

Learning path

Create

This course offers a practical hands-on experience. At the end of the workshop, participants will have produced one or more pieces of jewellery.

Prerequisites: None

Next Steps (Powder Metallurgy Specialisation):
NM200 - New Metal Technology 2: Sculptural Design with Mixed Media

Next Steps (Complementary Metal Arts Specialisation):
MS100 - Traditional Metalsmithing 1: Foundation Metalwork Skills and Experience

Participants attending and completing this programme as a stand-alone certification can choose to enroll for the Precious Metal Arts Diploma.

Tools & Materials

Blended-learning students will receive everything they need to complete all their coursework. The course fee includes all the tools, drawing materials and reference materials required for students to complete their coursework efficiently.

e-Learning students may opt out of purchasing the toolkit by letting our registrar know at the time of your registration.
Course gallery
FAQs
What is the difference between Blended Learning and e-Learning Modes of Study

+

The Blended Learning is a new option where less physical attendance is required to complete the course. The majority of your learning will take place through structured asynchronous (self-study) learning on our online platform. Once you have completed the required online lessons, you will attend scheduled classroom sessions at JDMIS' campus (in Singapore) where core techniques and knowledge are reinforced under the guidance of our expert instructors.

Similar to the Blended Learning, participants of the e-Learning Course will go through self-directed and self-paced learning through our structured online course. After completing the required self-study, participants will attend scheduled live online sessions with an expert instructor and a small group of other online learners.

In general, the total duration of e-Learning courses is slightly shorter than their blended-learning counterparts due to the absence of physical class attendance. This makes the e-learning courses more affordable, and also a suitable choice for individuals who do not have the option of joining us at the JDMIS Singapore campus.

For more detailed explanation on the Blended Learning and e-Learning, please visit our Training Mode explainer page.

How will the schedules work?

+

Most of your jewellery training will be delivered through HD-quality recordings that you can view at your own pace and convenience. Live session with the instructor (physical for Blended, and online for eLearning) will be scheduled in between or near the end of the course to reinforce your mastery of key concepts.

What if I have questions during self-study?

+

The learners from each course will receive access to an exclusive WhatsApp Group where you can get feedback from instructors and engage in discussions with your fellow students. You can also raise your questions during the live lessons with the instructors.

How much time do I need to study a week?

+

As most of the course is self-paced, you conduct your study at your own pace that suits your learning style. but the general recommended duration is 1-2 days a week.

Are the tools & materials included? If not, how much do I need to pay?

+

The cost of tools and materials is already included in the course fee. All students will receive the same tool kit that they will need to complete their course efficiently. For Singaporean and PRs, the amount will be invoiced and paid separately because tools & materials fees are not covered by SSG funding. Overseas students doing the online only/e-Learning option are eligible to opt out of purchasing the toolkit by letting our registrar know at the time of your registration.

How will my assignment be graded and what do I need to pass?

+

You are responsible for completing the online lessons before attending the live sessions with JDMIS instructors. Each course has several milestone assignments which you need to complete and submit by specified deadlines in order for your instructors to review and provide feedback.

In order for your instructors to review your assignments and provide feedback, you need to take photos/scans of your completed work (design or jewellery piece) and submit them onto the JDMIS online assessment portal.

You need to obtain an average mark of 60% or higher to pass the course and receive your Certificate of Completion.