An impressive sketch can close a sale; knowing how to sketch efficiently and effectively in front of a customer is a useful skill which will make you indispensable.
As a graduate of the JD100 you already know how to trace, sketch,and considering the elements and principles of design. Since the creative has been covered, this program will train you to focus on accurate and detailed draughts to avoid costly mistakes and guarantee your design is produced to exact customer specifications.
Preview video
Course outline
Technical Drawing Fundamentals
Train your eye to look at jewellery in a different way. Learn to visualise jewellery from different angles and translate this to a technical drawing in top and side views. You'll also learn how to ensure details are accurately represented with important sizes and measurements.
Intermediate Technical Drawing
Fine details are what make your jewellery unique, but these details may not be visible in the top view sketch. You'll learn to produce 'end-views', in which you can convey more details to ensure that your technical drawings completely encapculate your jewellery design and can be easily understood by the manufacturer.
Advanced Technical Drawing
Foreshadowing happens when the tilting or curving of a shape causes its appearance to look shorter and thus, affecting important measurements. 90% of communication issues between designers and their factories come from errors in foreshortening. You'll learn useful information on how and where foreshortening develops, and work towards more complex jewellery designs.
Fast Effective Counter Sketching
An impressive sketch can help you close a sale on the spot; knowing how to sketch efficiently and effectively in front of a customer is a useful skill which will make you indispensable in a jewellery environment. Learn to sketch quickly and with confidence to impress your clients.
Jewellery Cost Estimation
Professional designers are always prepared to respond confidently when their customers asks challenging questions about budget. Costing is a complex process with factors to consider - you'll learn how to estimate: gemstone values; metal weights and costs; and manufacturing and operating costs.
Course instructors
Tanja is an award winning jewellery designer & gemmologist with more than 4 decades of experience educating the jewellery industry across 4 continents. Dean and founder of JDMIS, Tanja works with aspiring artisans as well as top jewellery brand team members to help them achieve brilliance in their careers.

Read More
Student reviews
My favourite course is JD200 because I learned so much from the course from Tanja. This course has taught me the foundation to make my own designs and this is essential in creativity.

- Inna L. (Philippines)

I will tell my friend about the conducive environment and generous knowledge-sharing and hands-on practices in school.

- Hwee Yee C. (Singapore)

So far, I have used my skills to create an engagement ring for a friend.

- Denise A. (Singapore)

Tanja has been very patience and passionate in teaching and making us understand our subjects very well.

- Tracy T. (Singapore)

I think it gave me a lot of new ideas and more knowledge about how to be a good designer and use different tools and techniques.

- Isabela M. (Poland)

Tanja is very experienced in the field and regularly updated on market/industry conditions, so JDMIS is a good way to gauge if you are deciding whether or not to enter the industry. There are tips for how to interact with a client based on experience is helpful and knowledge that is not that easily found elsewhere, I would be applying those!

- Pei Wen C. (Singapore)

I think it gave me a lot of new ideas and more knowledge about how to be a good designer and use different tools and techniques.

- Isabela M. (Poland)

My favourite course is JD200 because I absolutely love learning from Tanja! She is so clear with explaining how to do things, very easy to understand and has so much experience in the Jewellery world with so many relevant, interesting stories to illustrate her points... I feel confident and ready to be a Fine Jewellery Designer!

- Carys O. (Britain)
Duration & Training Modes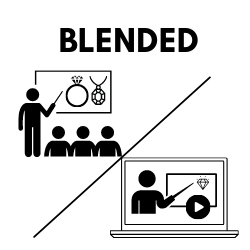 Duration: 3-5 weeks
All important theory and practical demonstrationst will now be delivered through asynchronous (self-paced) online learning. This means that students go through most of the learning at their own pace and convenience via a comprehensive series of online videos and attend live interaction sessions (physical or online) afterwards to receive maximum support and guidance under expert instructors to reinforce the learning of key skills and concepts. For more information on different training modes, click here .
JDMIS also has flexible make-up schedules and graduates can return for free for refresher courses (subjected to availability).
Learning path

Design

This Professional Certification course is part of the Fine Jewellery Design specialisation. At the end of the programme, participants will have made several jewellery designs of their own.

Prerequisites: JD100 - Classical Jewellery Design 1: Creative Drawing and Essential Jewellery Knowledge.

Next Step (Traditional Jewellery Design Specialisation): JD300 - Classical Jewellery Design 3: Jewellery Illustration, Light and Colour.

Next Step (Complimentary Jewellery Design Specialisation): DD100 - Digital Jewellery Design 1: Fundamentals of Digital Jewellery Design (CAD).

Participants attending and completing this programme as a stand-alone certification can choose to enroll for the Fine Jewellery Design Diploma.

Tools and materials

Our course package provides you with everything required to efficiently complete your coursework. If you're joining us for JD200, prepare yourself for a special treat: a brand new course kit awaits you! This includes three fresh templates (two of which are designed exclusively for jewellery), an erasing shield, a white pigment pen, various types of paper, and all the course materials you'll need. And here's a pro tip: bring along your tools and materials from the JD100 course to complement your new JD200 toolkit. It's all about making your learning journey as seamless and enjoyable as possible!

*e-Learning students may opt out of purchasing the toolkit by letting our registrar know at the time of your registration.
Frequently asked questions:
What is the difference between Blended Learning and e-Learning Modes of Study

+

The Blended Learning is a new option where less physical attendance is required to complete the course. The majority of your learning will take place through structured asynchronous (self-study) learning on our online platform. Once you have completed the required online lessons, you will attend scheduled classroom sessions at JDMIS' campus (in Singapore) where core techniques and knowledge are reinforced under the guidance of our expert instructors.

Similar to the Blended Learning, participants of the e-Learning Course will go through self-directed and self-paced learning through our structured online course. After completing the required self-study, participants will attend scheduled live online sessions with an expert instructor and a small group of other online learners.

In general, the total duration of e-Learning courses is slightly shorter than their blended-learning counterparts due to the absence of physical class attendance. This makes the e-learning courses more affordable, and also a suitable choice for individuals who do not have the option of joining us at the JDMIS Singapore campus.

For more detailed explanation on the Blended Learning and e-Learning, please visit our Training Mode explainer page.

How will the schedules work?

+

Most of your jewellery training will be delivered through HD-quality recordings that you can view at your own pace and convenience. Live session with the instructor (physical for Blended, and online for eLearning) will be scheduled in between or near the end of the course to reinforce your mastery of key concepts.

What if I have questions during self-study?

+

The learners from each course will receive access to an exclusive WhatsApp Group where you can get feedback from instructors and engage in discussions with your fellow students. You can also raise your questions during the live lessons with the instructors.

How much time do I need to study a week?

+

As most of the course is self-paced, you conduct your study at your own pace that suits your learning style. but the general recommended duration is 1-2 days a week.

Are the tools & materials included? If not, how much do I need to pay?

+

The cost of tools and materials is already included in the course fee. All students will receive the same tool kit that they will need to complete their course efficiently. For Singaporean and PRs, the amount will be invoiced and paid separately because tools & materials fees are not covered by SSG funding. Overseas students doing the online only/e-Learning option are eligible to opt out of purchasing the toolkit by letting our registrar know at the time of your registration.

How will my assignment be graded and what do I need to pass?

+

You are responsible for completing the online lessons before attending the live sessions with JDMIS instructors. Each course has several milestone assignments which you need to complete and submit by specified deadlines in order for your instructors to review and provide feedback.

In order for your instructors to review your assignments and provide feedback, you need to take photos/scans of your completed work (design or jewellery piece) and submit them onto the JDMIS online assessment portal.

You need to obtain an average mark of 60% or higher to pass the course and receive your Certificate of Completion.