Computer aided design and manufacturing (CAD and CAM) processes are revolutionising jewellery today. Freelance designers can produce one-of-a-kind jewellery at a fraction of the cost and jewellery manufacturers can increase production efficiency and quality well beyond what was possible using traditional hand crafting.
Jump-start your experience with CAD using industry-leading CAD software by Gemvision: MatrixGold. Together with essential software skills, you will learn useful sizes, shapes and measurements and gain substantial experience designing jewellery to specifications and rendering stunning, photorealistic images of your designs.
View Demo Lessons
Course outline
Develop skills in the latest technologies in jewellery design. Learn to use the professional industry computer aided jewellery design software by Gemvision. Design highly accurate 3D models that include gemstones and findings, then render these designs in photo-realistic quality as 2D images.
Introduction to Gemvision MatrixGold
Gemvision tools are the industry standard in the jewellery field. Learn about the interface, modelling strategies and best practices for using the latest version of Gemvision's 3D jewellery tool: MatrixGold.
*Participants need not have previous 2D or 3D computer design experience.
3D and Jewellery Modelling Essentials
Using a series of simple projects, learn about ring design and placing and setting gemstones. Understand basic manipulations, common sizes and thicknesses needed for jewellery parts and creative ways to manipulate basic shapes to produce stunning variations in seconds.
Learn Jewellery Setting Styles
Explore standard jewellery setting methods and how to model them in 3D. Learn about bezel settings, prong heads, halo settings, narrow channels, wide channels and more; understanding measurements, guidelines, manufacturing minimums and creative combinations.
Master the Commercial Staples
Walk into any jewellery store and you will see a wide range of commercially popular design styles, from crossover to cathedral shanks, from channel to bead settings, from solitaire to gem-encrusted styles. Master these popular styles that employers and entrepreneurs world-wide require of their design team.
Curves, Surfaces and Solids
To unleash the creative potential of any design tool, you need to break free of libraries and built-in shapes. Learn how to create and manipulate curves, create surfaces & solids. Trace curves over scanned paper sketches. Understand solid modelling concepts and use them to create unique shapes and designs.
Produce Rings, Pendants, Earrings and more...
Learning projects introduce concepts as well as applications and encourage the creation of a wide range of jewellery types, including a variaty or open-and-closed shank rings, pendant varieties, earrings, brooches and charms.
Rendering with Cycles
Produce photo-realistic high-resolution renderings suitable for a professional portfolio or website. Learn tips for producing stunning, true-to-life renders by incorporating HDR environments and simulating real-world depth-of-field effects.
Course instructors
A marine engineer of 24 years, Tameem rekindled his passion for product design in 2004 and graduated from JDMIS' Metal Clay Arts and Digital Jewellery Design programmes. He went on to start his own jewellery and production label, creating hundreds of designs for his customers before eventually joining JDMIS as an instructor to impart his practical knowledge to the next generation of jewellery designers.

Read More

Alex has been training designers and business owners from the region in 3D jewellery design and manufacturing since 2008: building the CAD/CAM skills of over 400 jewellery professionals. He graduated from Duke University with a Bachelors'degree in Computer Science, Marketing and Management and from INSEAD with a Masters' Degree in Business Administration.

Read More
Preview video
Student reviews
It's a great and useful course... The course content is very well curated.

-Kai Jun E. (Singapore)

This course stimulated my aspiration and enhanced my design thinking. I'm planning to start a small jewellery business, so all I have learnt from this course is useful and applicable. Design thinking process is applicable to my current work too.

- Nay W. (Singapore)

The structure of the course materials was easy to follow. All the tools are relevant for the day to day CAD design.

-Hannah A. (US)

Highly effective structured lessons that allow you to pace your learning as comfortably as you wish it to be paced.

- Dylan T. (Singapore)

A wonderful course that gives the knowledge of designing jewels, more flexibility to the designer and creates the final output easily.

- M. Sha (Sri Lanka)

I have gone to quite a few courses, this is the first time I meet a teacher with was so much patience. Thank you so much Tameem.

- Chai Wee T. (Singapore)

The course was challenging and intensive. The hands-on sessions in person definitely helped and the instruction sheets were self-explanatory. The videos were full of information but there were a lot of hours to go through so the in-person sessions definitely helped to gear us up to speed immediately. I will definitely continue to practice what I have learned as someone who has no exposure to the jewellery trade.

- Christina M. (Singapore)

Really appreciate the detailed course materials and demo sessions in class!

- Michelle T. (Singapore)

My favourite course! Didn't expect to learn digital design that easily, thanks to Alex's wonderful teaching.

- Soi Mui (Singapore)
Duration & Training Modes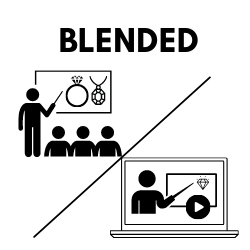 Duration: 3-5 weeks
All important theory and practical demonstrationst will now be delivered through asynchronous (self-paced) online learning. This means that students go through most of the learning at their own pace and convenience via a comprehensive series of online videos and attend live interaction sessions (physical or online) afterwards to receive maximum support and guidance under expert instructors to reinforce the learning of key skills and concepts. For more information on different training modes, click here .
JDMIS also has flexible make-up schedules and graduates can return for free for refresher courses (subjected to availability).
Learning path

Design

This course offers a design experience. At the end of the workshop, participants will have designed their own jewellery.

Prerequisites: None

Next Step (Traditional Jewellery Design Specialisation): DD200 - Intermediate 3D Modelling & Gem Settings.

Next Step (Complementary Design Specialisation): JD100 - Classical Jewellery Design 1: Creative Drawing and Essential Jewellery Knowledge.

Participants attending and completing this programme as a stand-alone certification can choose to enroll for the Fine Jewellery Design Diploma.

Tools and materials

Blended-learning students will receive everything they need to complete all their coursework. The course fee includes all the tools, drawing materials and reference materials required for students to complete their coursework efficiently.

e-Learning students may choose to opt out of purchasing the toolkit by letting our registrar know at the time of your registration.

To ensure you have the best learning experience, we upgraded our machines again with more RAM. These powerful i7 machines are running very smoothly with the new Matrix Gold - even using remote access
Course Gallery
Frequently asked questions
What is the difference between Blended Learning and e-Learning Modes of Study

+

The Blended Learning is a new option where less physical attendance is required to complete the course. The majority of your learning will take place through structured asynchronous (self-study) learning on our online platform. Once you have completed the required online lessons, you will attend scheduled classroom sessions at JDMIS' campus (in Singapore) where core techniques and knowledge are reinforced under the guidance of our expert instructors.

Similar to the Blended Learning, participants of the e-Learning Course will go through self-directed and self-paced learning through our structured online course. After completing the required self-study, participants will attend scheduled live online sessions with an expert instructor and a small group of other online learners.

In general, the total duration of e-Learning courses is slightly shorter than their blended-learning counterparts due to the absence of physical class attendance. This makes the e-learning courses more affordable, and also a suitable choice for individuals who do not have the option of joining us at the JDMIS Singapore campus.

For more detailed explanation on the Blended Learning and e-Learning, please visit our Training Mode explainer page.

How will the schedules work?

+

Most of your jewellery training will be delivered through HD-quality recordings that you can view at your own pace and convenience. Live session with the instructor (physical for Blended, and online for eLearning) will be scheduled in between or near the end of the course to reinforce your mastery of key concepts.

What if I have questions during self-study?

+

The learners from each course will receive access to an exclusive WhatsApp Group where you can get feedback from instructors and engage in discussions with your fellow students. You can also raise your questions during the live lessons with the instructors.

How much time do I need to study a week?

+

As most of the course is self-paced, you conduct your study at your own pace that suits your learning style. but the general recommended duration is 1-2 days a week.

Are the tools & materials included? If not, how much do I need to pay?

+

The cost of tools and materials is already included in the course fee. All students will receive the same tool kit that they will need to complete their course efficiently. For Singaporean and PRs, the amount will be invoiced and paid separately because tools & materials fees are not covered by SSG funding. Overseas students doing the online only/e-Learning option are eligible to opt out of purchasing the toolkit by letting our registrar know at the time of your registration.

How will my assignment be graded and what do I need to pass?

+

You are responsible for completing the online lessons before attending the live sessions with JDMIS instructors. Each course has several milestone assignments which you need to complete and submit by specified deadlines in order for your instructors to review and provide feedback.

In order for your instructors to review your assignments and provide feedback, you need to take photos/scans of your completed work (design or jewellery piece) and submit them onto the JDMIS online assessment portal.

You need to obtain an average mark of 60% or higher to pass the course and receive your Certificate of Completion.