It's never too late to pursue a career that sparks joy and fulfillment. Our comprehensive course provides a transformative journey from concept to creation of your creative vision. By the end of the program, you'll have a mini portfolio showcasing your creative designs, a wealth of knowledge about conceptualizing and sketching jewellery pieces, and a newfound confidence to take the next important step - bringing your designs to life through manufacturing.
The career prospects after graduation from our program are as diverse as our curriculum. Many of our graduates go on to make significant contributions in the jewellery industry, designing exquisite pieces for renowned brands. Some launch their own successful jewellery businesses, creating and selling their unique designs. Others apply their design knowledge into jewellery making, producing one-of-a-kind bespoke jewellery for the priviledged clients. With the knowledge and experience gained from JDMIS, you'll be well-equipped to pursue these exciting opportunities.
This course enjoys 50-70% SkillsFuture Funding for Singaporeans and PRs for a limited time!
Register Interest!
Instructor's profile
Tanja is an award winning jewellery designer & gemmologist with more than 4 decades of experience educating the jewellery industry across 4 continents. Dean and founder of JDMIS, Tanja works with aspiring artisans as well as top jewellery brand team members to help them achieve brilliance in their careers.

Read More
Preview video
This year's remaining schedules are in high demand!
Submit the form below to learn more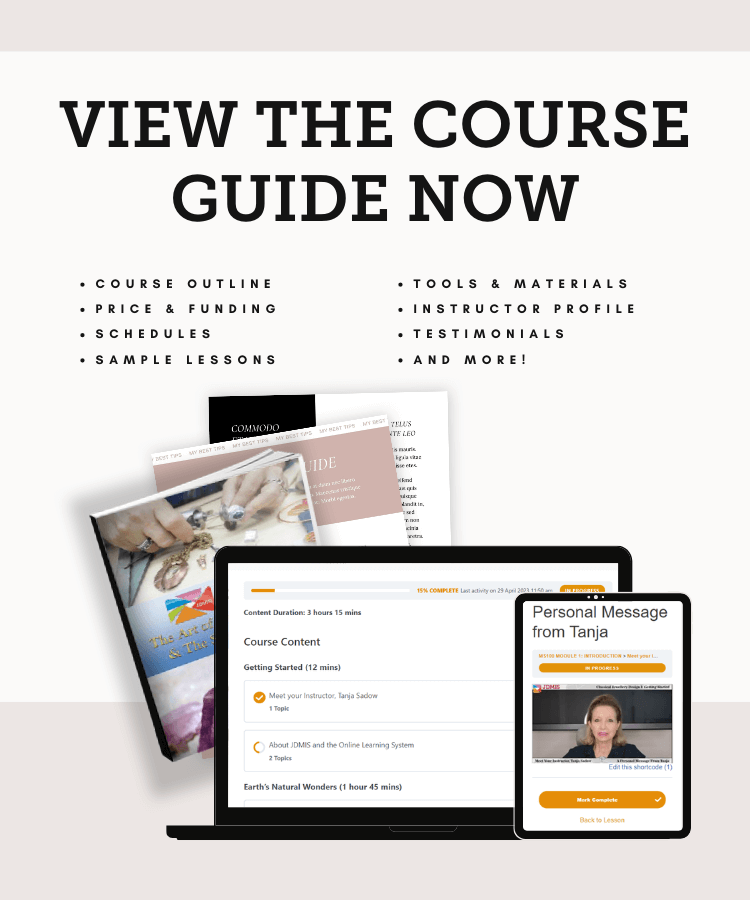 Who can say it better than our past graduates?
If you are looking for a very effective yet relaxing course, JDMIS is the one. There is no pressure in learning because the course materials are provided online and you can discuss things with the teacher in class weekly. The amount of homework and assignments are just the right amount to handle. I'm lucky to have decided to join this program.

- Phwan Lao K. (Thailand)

<!

Very well organised and presented. Tanja is superb, could learn loads from her... Very excited to start making designs for myself.

- Chye Lian L.(Singapore)

<!

Absolutely loved the course. Very informative and the trainer made it so easy for us.

- Rani V. (UK)

<!

Interesting well-paced classes with useful practical tips and the best instructor one could ask for!

- Calvin Z. (Singapore)

<!

The course was very detailed and I learned a lot while building a steady foundation for the skills I hope to achieve. Course outline and timings were great for busy adults. I love the way my lecturer Tanja conducts the lessons and I'm definitely looking forward to more classes with her.

- Tracy T. (Singapore)

<!

I would say that the teachers are very passionate and skilled. Students will get hands-on experience with good guidance and also life long contacts with students and teachers.

- Valerie S.(Singapore)

<!

Tanja is so knowledgeable and kind. She is also patient and explains everything very clearly... This course will definitely help me get to where I want to be in my jewellery career. I can't wait to enlist myself in Part 2 of the course.

- Nargis M. (Singapore)

<!

Great instructors, environment, material and practice... Design jewellery for self, family

- Catherine C. (Singapore)

<!

A wonderful class taught by Tanja Sadow. She is a very engaging instructor with lots of professional insights that were readily shared and very apparent in class. Really enjoyed learning from her and was very inspired.

- Ling Kai Ng.(Singapore)

<!

I am very confident that the skills and techniques I have learned will help me immensely with finding work as a fine jewellery designer

- Carys O.

<!

Great course, I have thoroughly enjoyed it! I'm now more skilled in evaluating the quality of a piece of jewellery

- Vicky W. (Singapore)

<!

It's a very well paced and fantastically organised course with lots of materials and sufficient examples for learning...A wonderful opportunity to pick up new skills and knowledge within the realm of jewellery and designing

- Wei Yeong L. (Singapore)

<!

JDMIS is the the best academy to learn and study more about the jewellery industries. It provides all the useful informations and materials which I'm very sure I can't find in any other academy out there, which helps us to achieve success in this industry!

- Kassim M. (Singapore)

<!

The course is definitely worth enrolling to get a good fundamentals on jewellery design concepts. Everything you learnt is applicable and opens yourself to the basic fundamentals you need. Great mentor and learning journey for every lessons!

- Eric W. (Singapore)

Even though I am not the neatest in drawing, I have learned the basics of jewellery and fundamentals of designing through this great course.

-Lazima S. (Sri Lanka)

<!
Course Gallery
Request To View Course Syllabus, Price, Funding and More!