If you are like most entrepreneurs, time is money and you need to be able to start creating quality, commercially successful products right away!
Fashion Jewellery is a popular field for aspiring jewellery entrepreneurs because stunning designs can be produced using fast, professional techniques. By combining the right techniques and knowledge with your personal style and themes, you can produce one-of-a-kind high-quality pieces that command a premium price and delight your customers!
This course enjoys 50-70% SkillsFuture Funding for Singaporeans and PRs for a limited time!
Register Interest!
Instructor's profile
Sujata is an experienced teacher and fashion jewellery artist specializing in thread and wire jewellery fabrication techniques. Moving to Singapore, she used the opportunity to enrolled into JDMIS and after graduation, she soon became a recognized jewellery artist with her own brand name, Mila

Read More

Sharon Tan was previously a seasoned marketer and accomplished figure skating coach. Her unique blend of skills, creative passion, and teaching acumen enables her to effectively impart complex jewellery techniques to her students and inspire them to greater heights and success even beyond the classroom.

Read More
This year's remaining schedules are in high demand!
Submit the form below to learn more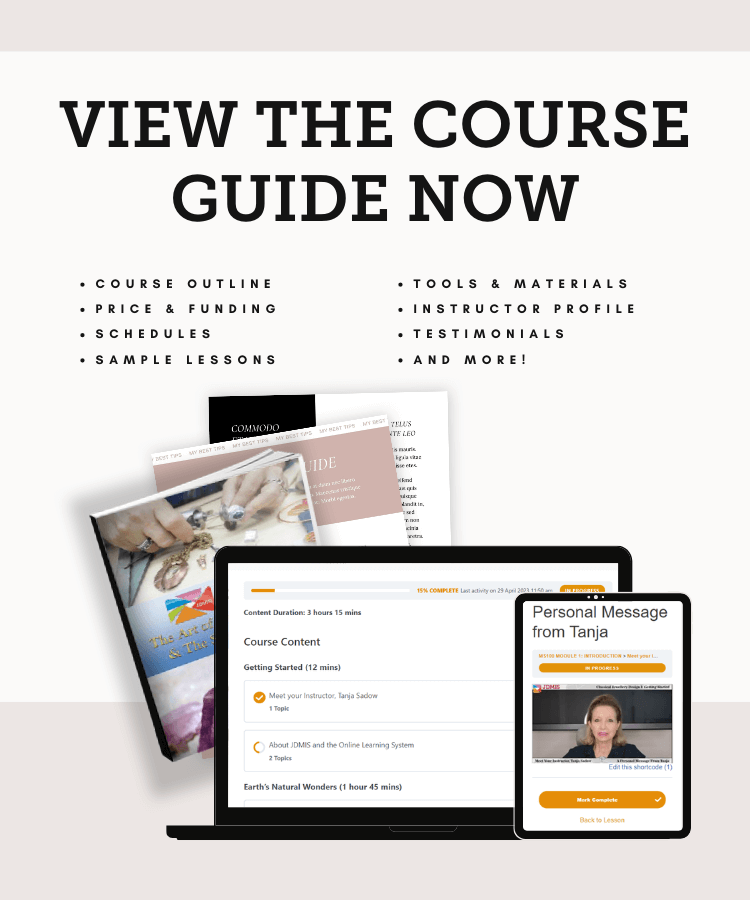 Who can say it better than our past graduates?
I love everything!!! Thank you!!

- Ekaterina T. (Russia)

Enjoyed the course thoroughly. A big thank you to Sujata for making the learning so enjoyable and also sharing generousy about her own experience as a professional jeweller.

- Agnes K. (Singapore)

Fashion jewellery 100 course is well planned, very interesting and informative. I will be using the skills to create more designs & jewellery!

- Seow Wei L. (Singapore)

I would recommend this fashion jewellery design course to my friends because the instructor is very experienced and knowledgeable. 😊

- Shireen Ng. (Singapore)

Very well organised. Basically, all techniques are my favourite. We can mix different techniques into a single unique piece.

- Karen K. (Singapore)

Must sign up!! Very fun and informative... I never thought I would be interested in chain maille but after this course I fell in love with it! Will be exploring more chain maille techniques to play around with :)

- Harumi K. (Singapore)

Good learning environment and the instructors are skill full and friendly , attend to every individual's doubts and questions with great patience.

- Swapna K. (Singapore)

Fantastic! 1)There is support even after end of course. 2) Sharon is knowledgeable and willing to impart her knowledge. 3) Tanja's videos are easy to follow and the school allows us to re-watch again. Thanks for supporting the new kids on the block :).

- Mui Lee A. (Singapore)

The best hands on workshop that teaches essential skills without holding back their knowledge or fearing you will be better than them.

- Sylvia K. (Singapore)

Very good learning environment, very good instructor with detailed guidance and strict demands to achieve professional finishing of jewellery pieces. All materials provided and shared with us with guidance on where to buy materials and how to choose materials.

- Catherine C. (Singapore)

The school teaches proper techniques professionally. I will use the skills to make beautiful necklace to sell or gifts for friends. 😊

- Hamilton H. (Singapore)

Course is detailed, instructor is good and generous in sharing skills and experience. Admin staff is great.

- Alexis K. (Singapore)

Very well structured course and the videos are very helpful. We can always go back to watch the videos should we forget the techniques. It is extremely useful.

- Shirley K.(Singapore)

You get to learn the right techniques and make your very own creation. You have the best instructor to get going with your creative juices.

- Michelle E. (Singapore)

The teaching method at JDMIS truly enables students to acquire practical skills and the confidence to make professional quality jewellery. I encourage anyone with a passion for jewellery making and wishes to acquire the skills to come here to learn.

- Geraldine W.

I love my trainer and she did explained well and make me understand and help me a lots.

- Tiny K. (Singapore)

I would love to start using these skills to make fashion jewellery for myself and to gift to relatives and friends for practice. Most important of all, to give back to society by way of donating proceeds from the sale of my creations to a good cause. Maybe even teach in the CCs if I become expert enough.

- Bhupinder K. (Singapore)

The best course center I've attended so far! I've already shared this course with my husband and he graduated last week.

- Pauline Q. (Singapore)

Lovely, professional, friendly - Tanja, the trainer and the JDMIS team

- Joycelyn W. (Singapore)
Course Gallery
Request To View Course Syllabus, Price, Funding and More!