Knowledge of Gemmology and the latest trade practices is essential for every aspiring gem enthusiast, dealer, and collector. Not only can you make better-informed decisions but also avoid overpaying when purchasing various gemstones. Learn in-depth about the classification of gemstones, factors affecting the value of the coloured gems, natural versus synthetic gemstones, saltwater versus freshwater cultured pearls, important phenomenal gems, jade and jade imitations... all within 2-4 weeks.
This course enjoys 50-70% SkillsFuture Funding for Singaporeans and PRs for a limited time!
Register Interest!
Instructor's profile
Tanja is an award winning jewellery designer & gemmologist with more than 4 decades of experience educating the jewellery industry across 4 continents. Dean and founder of JDMIS, Tanja works with aspiring artisans as well as top jewellery brand team members to help them achieve brilliance in their careers.

Read More
Preview video
This year's remaining schedules are in high demand!
Submit the form below to learn more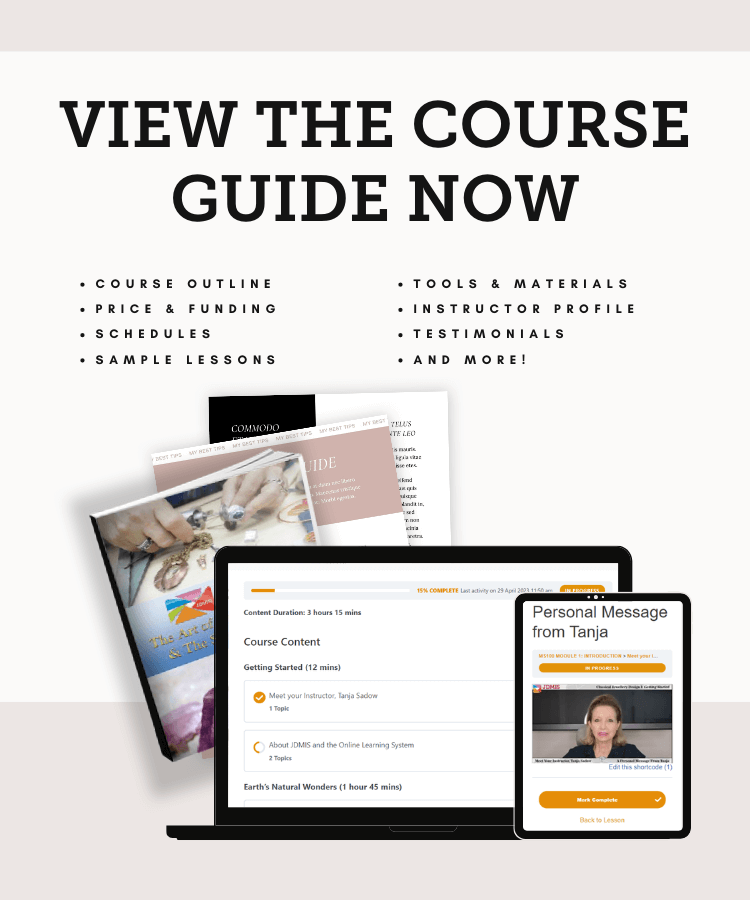 Who can say it better than our past graduates?
Good knowledge and hands on. Great instructor who has a vast knowledge of the gems and industry. I have become more knowledgeable, less skeptical to scams to buying gems and increased basic knowledge to mining, gems and the environment.

- Jasmine L. (Singapore)

The material is well-written. Very informative. The trainer is a subject matter expert and imparts a lot of knowledge to us. The training administration is seamless and makes the registration process very smooth. Staff is friendly and prompt. (I will use the skills) to start a business & buy gems with more knowledge.

- Moy Yin L. (Singapore)

Perfect class size. Love the face to face lessons, the physical examples for reference and learning, and the interactive lessons. The online lessons were well organised too! The videos were clear and well paced. The online notes and physical notes were very helpful too! I like the fact that we can always log back onto the learning platform to recap moving forward. Thank you to our trainer, Tanja too! Very engaging, clear communication, knowledgeable!

- Pauline S. (Singapore)

The course is great, even for beginnners. Very very informative and makes us understand very well with lots of examples. Only small improvement will be for the instructor to take note of the time of the physical class as sometimes the class can overrun, especially when students start to ask a lot of questions.

- Kai Xuan Y. (Singapore)

A very good learning experience. Lots of practical application. Great instructor who is very experienced and able to communicate concepts effectively.

- Su Ean H. (Singapore)

Fantastic and very professional. Small class size and great teacher. They cover a lot of things and the online courses were easy to grasp and fun. The assessment was necessarily difficult and very helpful for remembering. One of the best courses I have taken.

- Fuling S. (Singapore)

It has been an incredibly rewarding experience to be part of this class. The training materials are very comprehensive and the effort that has gone into producing them deserves a huge compliment. Being able to touch, feel and assess the gems in class with classmates has made the lessons truly come to life. Tanja deserves nothing less than the utmost compliments I can give to a trainer, hands down the best trainer I've encountered in any SkillsFuture course to date.

- Pamela P. (Singapore)

It is an excellent course to attend for those who enjoy gemstones, diamonds, jade as well as phenomenal gems. It can be very useful in buying gemstones and how to read and understand gem and diamond certificates.

- Julia N. (Singapore)

Informative course! Please attend if you have keen interest in gems and diamonds! I collect crystals and make bracelets so going through this course helps me in my purchase of the materials!

- Cindy W. (Singapore)

I'm thinking of going into jewellery business. So this gives me a good foundation, especially in buying jewellery. Interesting stories shared (by the instructor) will give you better understanding and what to look out for when you buy a piece of jewellery.

- Ericka T. (Singapore)

This is such a Great course with very solid content knowledge to be acquired! I can talk to my husband about the gems and Jade now as he is a huge fan of these gemstones.

- Panpan G. (Singapore)

It was a wonderful course and I have learned a lot, this is definitely a good start to the world of gemology. My family members are avid gem collectors and the knowledge I gained would come in handy during our gem hunt.

- Ee K. (Singapore)

This will be useful for my e-commerce store.

- Fannie T. (Singapore)

I only wish we had more time to look, see and feel more samples of the gems. Otherwise I thoroughly enjoyed myself. It gives me an impetus to learn more about this industry and what it has to offer.

- Claudia G. (Singapore)

Highly recommended! It's good to have time set aside in the week to properly digest the videos. It contains the broadest scope of coverage - appropriate given the current consumer interest.

- Joanne O. (Singapore)

I definitely like this training with good and useful knowledge learnt. It will be good if we have more time to practice during the class... Thank you very much for the training and SkillFuture claimable is also an helpful factor. Thank you.

- Emily P. (Singapore)

As a gem dealer, this (course) was brilliant.

- Mohamed N. (Singapore)

JDMIS is truly awesome. Worth any time and money you invested in. Regardless of whether you are in the jewellery trade or not this is good knowledge.

- Imran A. (Singapore)

I love the way Tanja teach! The class were never bored as she fills the lessons with examples and stories related to the topic of the lessons.

- Louis L.(Singapore)

Love the history, story and trade sharing by Tanja... Very insightful learning!

- Eileen L. (Singapore)

Loving the gem course and Tanja is always very informative... It's engaging and full of new information

- Faizal S. (Singapore)

The curriculum is more than what I expected. I felt engaged throughout the 5 days of lessons. Tanja brought so much industry experience to share. I would recommend this course to all gemstone lovers and those who appreciate the beauty of nature.

- Eva W. (Singapore)

Tanja is amazing, professional and really experiece and patient with all of us.

- Scott P. (Singapore)

Great instructor, great course materials and fun environment... I really learn a lot from this course and really love it. I can identify my gemstones better.

- Su Myat T.

Overall, the course was very well planned, course materials were excellent and the instructor was marvellous. I cannot think of a single complaint and I would highly recommend this course to friends who would be interested to know more about the Jewellery and Gem trade. Keep up the good work!

- Raymond K.

Lovely environment, super stimulation course content, fantastic and really experienced lecturer, absolutely loved the whole course.

- Claren C. (Singapore)

Tanja is exceptional in her lectures. She is very well equipped in both industry experience and theoretical applications which help in further understanding the course material. Tanja's strong passion is evident in her delivery of the course materials to the students, and has made the course extremely enjoyable.

- Shaun F. (Singapore)

Everything the trainer has done for the course is superb. Miss Tanja is a very knowledgeable trainer. Learned so much from her in this course. Thank you.

- Anthony A. (Singapore)

It's always a pleasure to have Tanja teach a class as she is an encyclopedia of knowledge... I will use what I have learned in my own jewellery designs and gemmological knowledge.

- Margaret P. (Singapore)

In a short but intense period, I felt that I learnt a lot of tips that would help me with sourcing for gems, especially tell tale signs of imitations.

- Geraldine H. (Singapore)
Course Gallery
Request To View Course Syllabus, Price, Funding and More!